Time really has begun to stand still during this Covid 19 pandemic. Today, I was scrolling through my Art Gallery and when I saw this pic, I wanted to post about it.
This was my "Turning 40" poster I made a couple years ago. I had made other personal portrait style posters the same year starring my friends who had turned 40 as well. But for my kick at the can, I did something a little different. I decided to pay homage to time. But specifically Time Travel. I mean doesn't everybody fantasize about having a great big re-do sometimes? I know I certainly do. Sheesh. So the theme is a clock face with each number on the clock depicting a famous character from Film or Television, that heavily focused on the theme of time travel.
"OUTATIME" by Gerry Albert – Time Travel clock theme.
1. H.G. Wells – "The Time Machine"
2. Dr's Newman and Phillips – "The Time Tunnel"
3. Jeffrey Jones, Phineas Bogg – "Voyagers"
4. Doc Brown, Marty McFly – "Back to the Future"
5. Spock, Captain James T. Kirk – "Star Trek IV: The Voyage Home"
6. Bill S. Preston, Esq., Ted Theodore Logan – "Bill and Ted's Excellent Adventure"
7. Dr. Sam Beckett, Al Calavicci – "Quantum Leap"
8. Phil Connors – "Groundhog Day"
9. Desmond Hume, Daniel Faraday – "Lost"
10. Adam, Lou, Jacob, Nick – "Hot Tub Time Machine"
11. Hiro Nakamura – "Heroes"
12. The Doctors #' 1 – 12 – "Dr. Who"
I really enjoyed putting this one together a couple years ago and I think it may be one of my favorites I've done. I guess I did have a form of Time Travel as I reminisced all the shows as I was drawing the poster. Lol.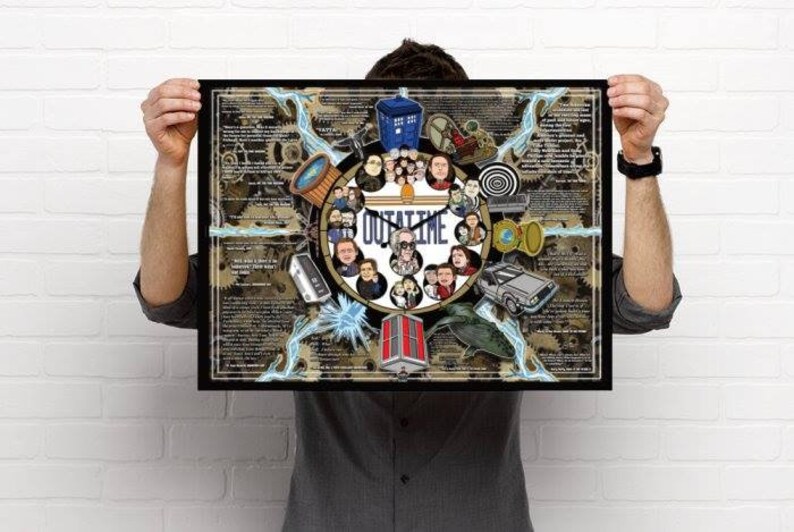 Interested in purchasing this poster, or look at other prints by GAS, please click the photo above to visit my ETSY Page. 🙂
**I would love to hear some feedback. Let me know what you think! I'd love some helpful criticism. Always looking to get better at this. So Good Morning folks. And if I don't see ya, I'll hop in the time machine and wish you a good afternoon, good evening and good night! Cheers!**
~G!